It.Was.C-O-L-D. Holy moly, was it cold this morning! My alarm went off at 4:30am today. I checked the weather on my phone when I woke up and it said 25 degrees. Luckily, there wasn't really any wind. I briefly considered staying in my warm bed and using the weather as an excuse for not running, but decided against it. I remembered that we were having Chinese tonight for dinner. I remembered that Thanksgiving is less than a week away. And then I remembered that I ran in similar temperatures for my half marathon that was just 2 weeks ago. If I could run 13.1 miles in 20-degree temps, I could surely bust out a few miles in the same coldness today. Yup, I had no excuse. So, I crawled my booty out of bed, got dressed, and actually made it out the door in good time.
It was so cold that as I was just getting started and starting my gps app on my phone, the music I was listening to actually skipped a few times until I got it into my pocket, closer to some warmth. It then did the same thing at the end of my run when I pulled the phone out of my pocket to end the workout on my gps app. Yup, it was THAT cold. I checked the temperature when I got home... 26. At least now I know that I'm capable of running in weather that's so cold, which will hopefully keep me motivated to keep running through the winter.
During my run today, I did some thinking... I kept thinking,
"I want a treadmill, I want a treadmill."
So, my Christmas wish-list may be changing up a little. I doubt I'll get one, since we don't exactly have the room, but it is something that I'm willing to give up my car space in the garage to fit in.
On a separate, but semi-related note... I've been planning to go for a good run on Thanksgiving day. Our local Drumstick Dash is the only run of its kind going on on T-day, and its an hour each way to drive there. Unfortunately, the timing of this race as well as its location does not mesh well with our family's dinner plans. I've been hoping for a Virtual T-day race, and FINALLY found one, thanks to a fellow blogger, Tonia from
Racing With Babes
. Its a virtual 5k, from
A Journey to Thin...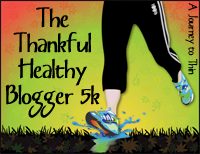 So, I've finally found something to motivate me that day, instead of just 'going for a run'. Yay! Feel free to check it out and participate yourself!
I'm also participating in the Holiday Bootie Buster Challenge, at
Run to the Finish
. This will be fun too... I'm loving all these opportunities to keep myself accountable over the holiday season! The button for this challenge is over in the sidebar...
Happy Friday!